Kodiak & Brown Bear Hunting
Since the 1940s Kodiak Island has had the mystique of the Big Coastal Brown Bears to the point where they are simply called "Kodiaks". Every year we conduct 3 spring and 2 fall Kodiak Island Brown Bear hunts. All of our hunts are conducted in the same manner, spot and stalk. This is why good optics are very important. Rain or shine we will go the distance with you in your search of that Kodiak Island Brown Bear of a lifetime. The terrain on the South end of Kodiak Island is fairly open with no evergreens and few deciduous trees. Large grassy openings sprinkled with willow and alder brush allow game to be spotted easily from a great distance. We own beautiful, beach-front, land with three permanent, wood heated cabins within our area of the Kodiak National Wildlife Refuge, which we base our hunts out of and in most cases you return to every night. Meals are served family style and prepared by a competent cook, often with the addition of fresh seafood.
12 day hunts with 1 client to 1 guide.
Season:
04-01 through 05-15 and 10-25 through 11-30
Average Temperature (Kodiak city area):
about 45° in May and October with an average rainfall of 6 inches during the same months.
Kodiak Island Brown Bear Permit Drawing Process: Land status (ownership) on Kodiak plays a key role in permit process. In our area, the major landowner is the Federal Government. Through a lengthy process, I have secured the guiding rights in this area. I am the only guide recognized by the landowner, which simplifies the permit drawing process for you and virtually guarantees you a permit if you follow the directions we send you. If for some reason you are not drawn, (has not happened yet) we will refund your deposit or reschedule your hunt.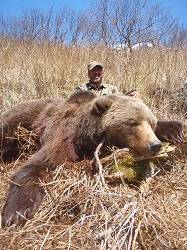 Enduring very inclement weather, glassing under silicone tarps for hours on end and putting up with all that mother nature could throw his way, Gilbert Aldaz of Albuquerque, N.M. finally took this well furred bear near the last day of his hunt. Gilbert was guided by Clay Roberts and assisted by Chris Osbekoff.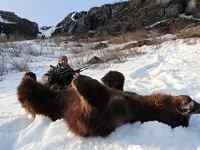 Pat Dooley of Dooley Enterprises Inc. Ammo@dooleyenterprises.com took this great bear on day seven with guide Bret Bohn. The bear had been in a serious fight and was badly hurt. Consequently. He did not want to get up at the completion of the stock. After a lot of yelling "get up yogi" he finally came out to see what the racket was all about.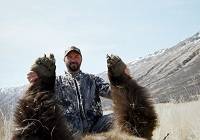 Cory Baden of Defiance, OH had dreamed of this hunt since childhood. He and guide, Bret Bohn, hunted hard for twelve days of his hunt and finally scored this well furred 8 1/2 footer. Finding bear with good hides can be a challenge on warm spring days.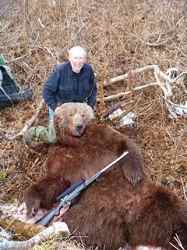 Hunter Wiggington of Texas had a bear walk up to his tent the first evening out, almost stepped on a sow with cubs and pretty-much got the South Island tour before finally getting this nice spring bear at Lamoureux's Kodiak Bear camp. Guide was Clay Roberts.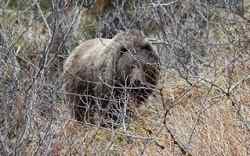 This young, female (sow), brown bear showed up right behind our Kodiak Island camp, ambled through and went on it's way.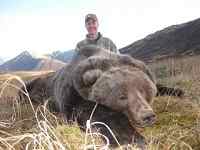 Jeff Clark came to Kodiak Island from Fortville, IN and took this nine foot brown bear and a good looking billy goat on a multi species Kodiak Island hunt. Jeff was guided by Clay Roberts.
Ron Shirk, owner of Ron Shirk Shooting Supplies, in Lebanon, PA hunted three days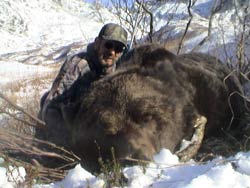 with Gus Lamoureux and was stalking a Kodiak Island Brown Bear larger than this one when it gave them the slip. While Ron and Gus were resting after the climb, this Kodiak bruin lumbered over the hill behind them and began rolling in the snow, 80 yards away. It didn't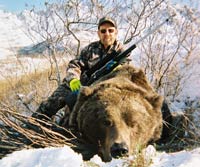 take a lot of sizing to figure out he was close to ten foot. Ron dispatched him with a very well placed shot. If you would like to ask Ron some questions about his Kodiak Island Brown Bear hunt, you may email him at bonnieandron@evenlink.com. Ron also got a Sitka Blacktail Deer and Mt. Goat during his Kodiak brown bear hunt.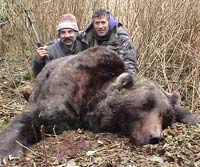 Dr. Joseph Camero, out of the Laredo Medical Center in Laredo, TX, pictured here with Gus, said he had his eye on a 10-foot Alaska Kodiak Island Brown Bear. So, when we bumped onto this one, sleeping, on the first day we had a little apprehension about shooting him.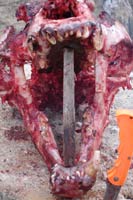 We made a lot of noise, and yelled at him to get him to move so we could get a better look. Once he stood up, it was a done deal. This Kodiak Island Brown Bear was so old he didn't have a good tooth left in his mouth. To discuss Joe's hunt with him you may email him at jpcamero54@yahoo.com. Joe also got a nice Mt. Goat during his Alaska brown bear hunt. You can see a portion of Joe's hunt video here
When Michael Moore , Ken Sager and John Martin all from Pennsylvania, showed up for their Alaska Kodiak Island Brown Bear hunt we weren't prepared for the tempo of which things took place.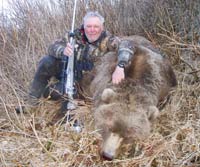 John tried for his Kodiak Brown Bear on the 6th day of the hunt and it didn't work out. He decided to rest the next day, so his guide, Daniel Nicolai went hunting with Ken Sager and his guide, Glenn Bohn. They spotted two Kodiak Brown Bears chasing each other. Later that evening a bear came out of the creek bottom.
Glenn, Ken and Dan made a successful stalk and took the Kodiak Brown Bear pictured here with Ken. Another bigger Kodiak Brown Bear came out from below and proceeded to walk where Ken's bear had previously walked. As the guys were checking out their bear, the second Kodiak Brown Bear walked up on them to the tune of 16 feet away. It was undeterred after firing shots to scare it away. Unfortunately they had to shoot it. So the following day after skinning two Kodiak Brown Bears, Dan and John went hunting down the beach and John got a nice nine-foot Kodiak Brown Bear.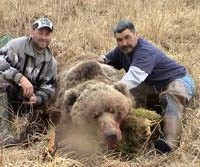 The next day, after turning the incidental kill bear over to Fish and Game, Mike, Gus and Dan connected with the third Kodiak Brown Bear. Mike is pictured with his bear and Daniel Nicolai. Mike is coming back for goat and will come to the Alaska Peninsula to see if he can get another brown bear via archery.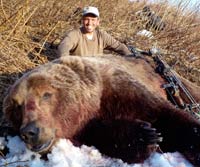 Joe Ciottariello , owner of Millbrook Landscape Contractors, in New Jersey, is pictured here with his spring Kodiak Island Brown Bear. Joe was guided by Lance Kronberger and was lucky enough to get two Easton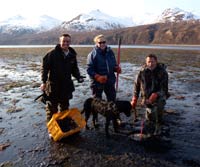 Axis/Montec G5 arrows at 40-yards into his Kodiak Island Brown bear. Joe used his Matthews 75# Drenaline bow. Joe also had a good time with Gus, Koreen, and the dog, Spooner, getting some Dungeness Crab and steamer clams for dinner.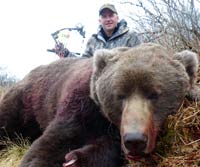 Pictured with his archery bear is Chuck Brewer. Chuck hales from Colorado and hunted three days with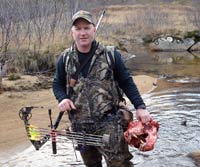 his guide, Lance Kronberger, before making a deadly 17-yard shot on this Kodiak Island Brown Bear. If you have further questions for Chuck you may contact him via email. Here is Chuck carrying back the bear skull.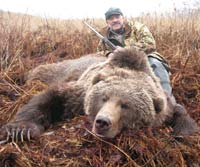 Lance Parks came to Kodiak Island from Billings, Montana for his brown bear. He was pleasantly surprised to find that his guide, Paul Lemmark also currently lives in Montana.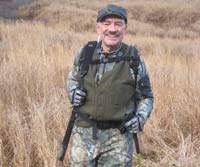 It only took Paul 7 days to get Lance up on this gorgeous brown bear. After the bear was down and taken care of Lance went on to get a nice Sitka Blacktail buck. Lance can be hard to reach, as he is sometimes out of country, but an email to dvrbabe@onemain.com will eventually get through.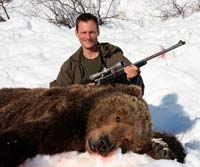 When Dr. Martin Hohmann of Heidelberg, Germany wanted an Alaskan Kodiak Island Brown Bear he decided that the best place for him to get one was with Gus Lamoureux's Ugashik Lake and Kodiak Bear Camps. Lyle Becker guided Martin to his beautiful Kodiak Island Brown Bear. Martin took some time off from his medical business and came to enjoy Alaska, he left camp early and enjoyed a successful Halibut and Salmon charter on the Kenai Peninsula.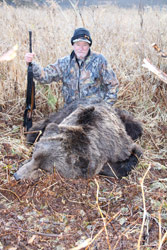 Steve Hoblick booked his Kodiak Island Brown bear, Mt. Goat and Sitka Blacktail deer hunt at the Safari International Convention. Steve took a rest from his duties at Danly Engineering Company, in California to spend some very enjoyable time with us. He harvested his battle-torn Kodiak bear on the very first day of his bear hunt. If you would like to ask him any questions you may send him an email.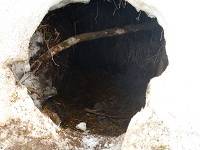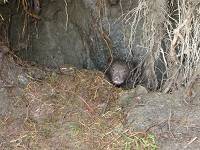 View of a bear den. Mom shot out of the den looking for a fight, lost her footing sliding down the mountain. Rifle shots scared her away. Happy ending...no one got hurt and mom reunited with her two cubs later that evening.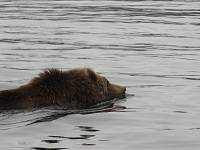 Out for a swim! We spotted this bear on a little island we pass while we were returning to camp and after cruising the back side he made a dash for the water. We pulled up alongside for a photo which bothered him a bit.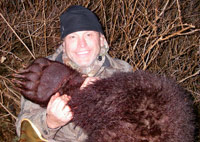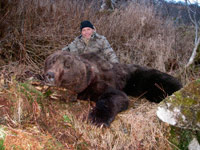 Dave Maynes has come from Wyoming to our Kodiak Island camp for Sitka Blacktail deer hunts a couple times and this time he decided he was coming to get one of those bears he had been seeing. Dave's guide was Lyle Becker for this beautiful bear. Look at the size of that paw. If you want to ask Dave some questions about his hunt or our operation you can get in touch with him at
dmaynes@q.com
.
Our Kodiak Island Bear Camp is located within the Kodiak Island National Wildlife Refuge, in Kaiugnak Bay, on the Southeast end of Kodiak Island, about 30 miles south of Old Harbor. This hunting area is Game Management Unit 8 and has been in our family for more than fifty years. This is the area where I took my first brown bear, at age nine.
Kodiak Island Bear Camp consists of three wood heated cabins, the main section of the main cabin was constructed prior to 1964 and rode out the tsunami after the largest recorded earthquake (9.2) in North America. The two guest cabins each have four bunks, wood laminate flooring and paneling with wood and kerosene heat. Each bunk is provided with covered foam mattress pads, pillows and clean linens. We also have an on demand hot water shower that we use, providing the weather remains warm enough not to freeze the water source.
If you feel that you would prefer to spike out in a small tent, with freeze dried food, so that you can be even closer to the game, getting an even more remote Alaskan experience, we have top of the line tents, mattresses and equipment.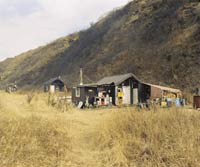 This photo shows all three of our cabins in Kaiugnak Bay on Kodiak Island.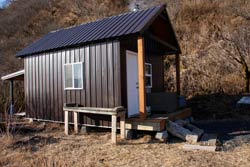 This is our newest guest cabin. Both cabins have laminate flooring, bunk beds and wood and kerosene stoves.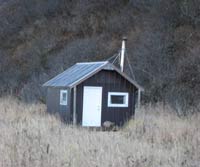 Our Second guest cabin sits a little farther from the main cabin making it more private, nice for when the better half comes along.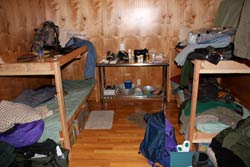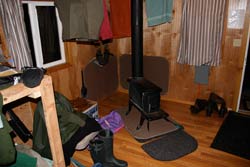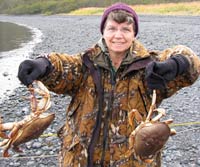 Bonnie Shirk holds up two Dungeness crab. She knows what's for dinner.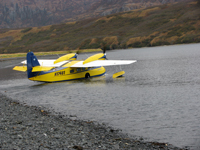 Grumman Widgeon, your flight to and from camp with Harvey Flying Service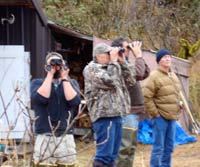 Just arrived at the Kodiak Island, Kodiak Bear Camp; let's see what we can find.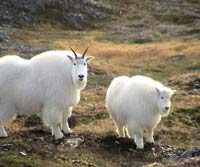 Kodiak Island Nanny and kid, close up and watching.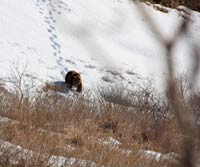 Alaska's Kodiak Island Brown Bear coming through the snow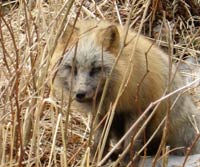 Kodiak Island Cross Fox in the grass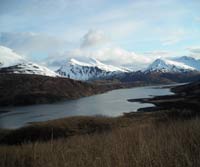 Kodiak Island's Kaiugnak Bay Lagoon at almost high tide.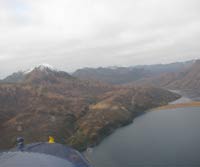 Your charter is almost to the Kodiak Bear camp in Kaiugnak Bay on Kodiak Island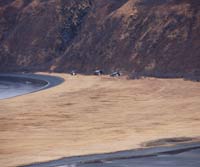 View from the hill of the base camp in Kaiugnak Bay on Kodiak Island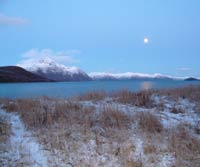 Moonrise as seen from camp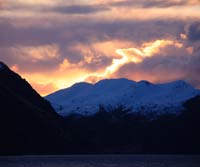 Sky on fire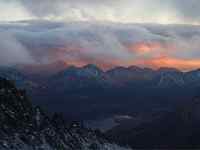 "Sky on Fire" Our guides get a bonus for the best photo of the year. This one, taken by Clay Roberts, got the award.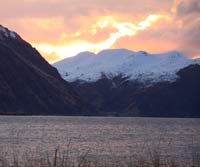 Progression of sky on fire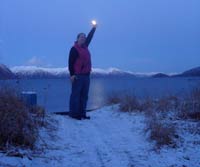 Koreen holding the moon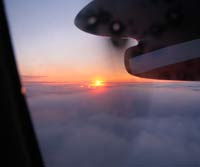 Morning flight to Kodiak Island from Anchorage, via ERA Aviation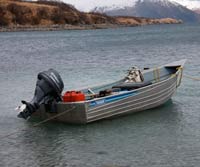 Grab your gear; our boat is ready to go.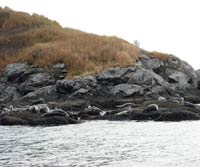 Harbor seals on the rocks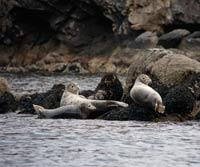 Some days they let you get real close for those pictures.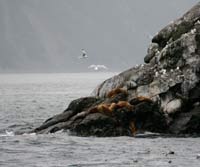 Sea Lions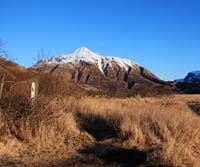 This is a beautiful view from the front door of the main cabin.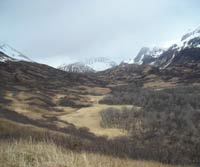 A view of the west end of Buck Valley, which is an excellent spotting area for bear, deer and even goats.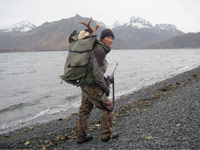 Chris Osbekoff, one of our excellent guides is heading back to camp with someone's deer in his pack.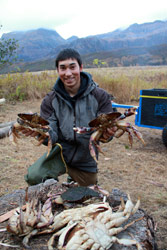 Are you ready for dinner? Chris Osbekoff holds up fresh Dungeness Crab.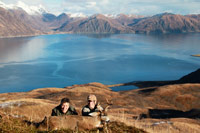 A beautiful view of Kaiugnak Bay in the background with Steve Hoblick, Gus Lamoureux and Steve's deer in the foreground. Steve also got a nice
Mt. Goat
.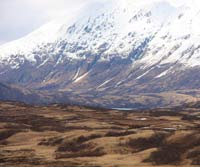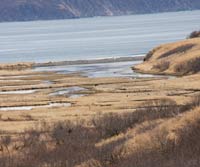 This view covers a good deal of terrain and gives you an idea of what the walking is like.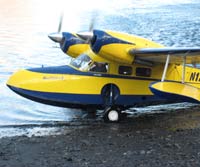 It's time to go. Your flight back to civilization has arrived.