Kodiak Island Mountain Goat Hunts
Since our area of Kodiak was first opened for the hunting of Mountain Goat our clients have enjoyed a 99% success in obtaining a goat, usually well below 2000 foot elevation. Three billies 10" or over have been taken here and our average is above 8.5". Often, but not always, we are able to get a goat in one day and back to camp by evening. This of course takes a client in good condition.
The low, rugged mountains of Kodiak Island make this one of the easiest Rocky Mountain Goat hunts anywhere in the world. There are no mountains in our area above 3200 feet and the majority of our goats have been obtained between 1200-1800 feet.
So far it hasn't taken us longer than five days of hunting to fill out, most are done in one to two days. We conduct these hunts in mid Oct. to mid Nov. as this is the best time for a goat with long hair. Weather during this time period often forces the goat down to lower terrain. Moderate climbing experience is necessary as terrain for the most part is mountainous. To make this hunt even easier on you we often use spike camps and this requires you to bring some extra gear as is listed on our equipment checklist. Up until November 2009 the harvest of goat in this area has been controlled by drawing permit. Due to an obvious increase in population levels these goat are now on a registration permit. This permit is obtained by going on line at the right time of year and registering for and printing a permit. Please contact us for further details.
1 client : 1 guide for 7 hunting days Season: 08/20 – 12/15 Hunt conducted 10/15 to 11/15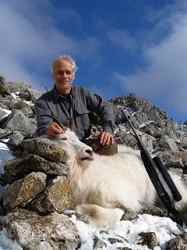 Steven Christopher of Forest, OH came to Gus Lamoureux's Kodiak Bear Camp and was guided to his beautiful goat on the first day of his hunt by Clay Roberts.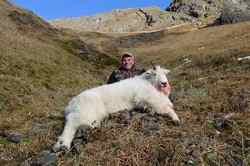 Pat Early of Indianapolis, IN, accompanied by his friend, Scott Guenther, was guided by Lyle Becker and shot this goat on day one of his hunt. The goat had the last laugh as it launched itself over the back side of the mountain and rolled a long way down hill. This made for a very long day, but they still made it back to camp that night for dinner. They sent the packer, Steven Strickland, back early with word of what was going on and where to pick them up after they retrieved the goat.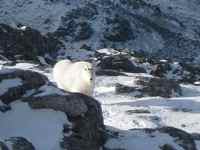 Nanny goat looks like she is thinking "What are you, and why are you on my hill?"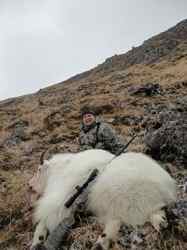 Jim Lines of Colleyville, TX took this nine inch Billy on his first day out at out Kodiak Island Camp. Clay Roberts assisted Jim to this happy moment.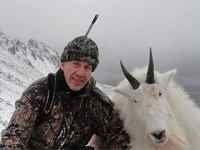 Day One. Lee Milas, from Yardley, PA looks to be snuggled up to his drinking buddy, Billy. He and his guide, Bret Bohn, killed this on a nasty, windy day on Mt. Wheezy, from Gus Lamoureux's Kodiak Bear Camp. As a storm was supposed to come up they opted to pack up the spike camp and with the help of Clay Roberts and packer, Steven Strickland, made the long walk back to a closer boat pick-up point.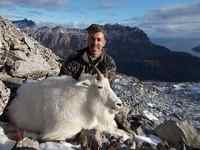 Joe Werner came to Kodiak from Orefield, PA with his friend Gary Valinsky to try for a Kodiak Island Billy Goat. Spent the first night in a spike camp and took this beautiful, long haired, Billy with a 460 yard shot on the first day of hunting. Joe was guided by Bret Bohn.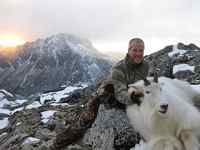 Jeff Clark of Fortville, IN took this nice billy and a nine foot brown bear on a multi species Kodiak Island hunt. Jeff was guided by Clay Roberts. They took this goat on the first day of the hunt, the same night they took the winning photo shot.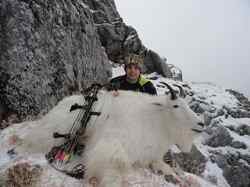 Jeff Bendelewski and his dad, Dan, came fishing at our Alaska Peninsula camp many years ago. They decided to come to our Kodiak Island camp for an archery try at a Billy goat. Jeff, Dan and their guide, Bret Bohn, laid in wait for this nice goat so Jeff could make an excellent 54 yard, double lung shot with his bow on the second day of his hunt.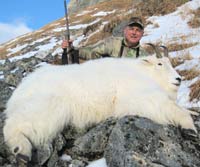 William Snow met us at the Safari Club International Show in Reno. He wanted to come on a goat hunt and was very glad when it went from a drawing to a registration permit. The day after Bill arrived at camp he put a one-day march on this Billy Goat, with his guide Lance Kronberger. They returned to camp in the wee hours of the morning with a beautiful billy. Bill hales from Ravenel, South Carolina and when he says he is going to cement a deal, he means it, as that is what his business is, Palmetto Gunite Construction Co., Inc. and if you would like to contact him via email you can do so at snowwl@aol.com.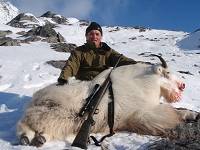 Shane Quinn of Alpine Hunting New Zealand and his guide Clay Roberts pulled a one day goat hunt, climbing up and down the mountain the same day and scoring this beautiful 9 ½ inch billy. Shane can be reached at info@alpinehunting.com if you have any goat questions or want info on his hunts.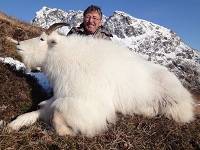 James Cunningham of Riverton, Wyoming took this gorgeous billly on his first day at Gus's Kodiak Bear Camp. James had been dreaming of a goat hunt for a long time and was gifted this hunt by his children. His guide, Kurt Whitehead, assisted all the way.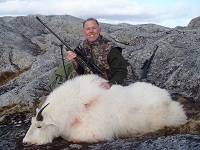 Jose Gallardo of Miami Florida was assisted by guide Chris Osbekoff in taking this great billy. A severe storm moved in and turned their night on the mountain into a "Living Hell" (guide quote).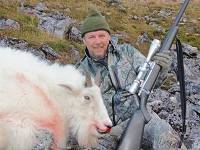 Russell Nethery of Carlin, Nevada gambled on a 2 on 1 goat hunt and scored well. Assisted by guide Bret Bohn, he and his friend Scott Fetters both took goat on "Wheezy Mountain"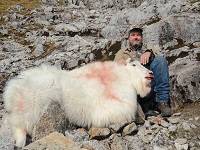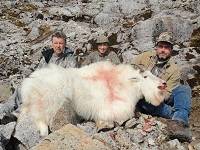 Scott Fetters, also of Carlin Nevada poses with his mountain goat and to the left is Russell, guide Bret Bohn, and Scott. The party started after they hit the beach! Good job guys!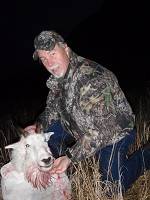 Timm Daly, of Placerville Calif. Took this nice billy assisted by guides Lyle Becker and Clay Roberts.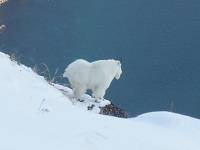 Beautiful photo, taken
by guide, Bret Bohn.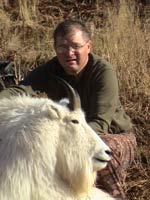 Dave Baldauf currently has the distinction of getting our lowest altitude goat. He and his guide, Gus Lamoureux, spotted it crossing between mountains and had to run downhill to catch up with him. Dave put a clean, one shot kill on him at 200 feet elevation.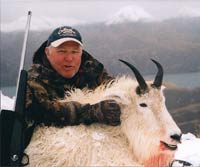 Ken Sager of Hummelstown, Pennsylvania decided he enjoyed his Kodiak Island Brown Bear hunt so much that he wanted to come back for a goat hunt. You can tell in this photo that he obviously has some words of wisdom on his lips after chasing goat for five days. Ken's email is sagerk@comcast.net.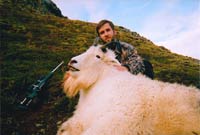 Cale Disterhoft is pictured here with his Kodiak Island Mountain Goat.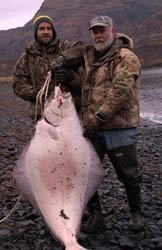 He was guided by his dad, Duane Disterhoft, and got his goat on the first day of the hunt, on the same hill that his dad got his own goat on in 2005 when Cale accompanied his dad as a nonhunter. Duane and Cale proudly hold up their 80-pound halibut. We were seconds away from calling it quits when this Butt got hooked up on Cale's line. He said it was a great way to end a successful goat hunt. Duane has hunted with us and guided for us many times. He recently got an archery brown bear on the Alaska Peninsula.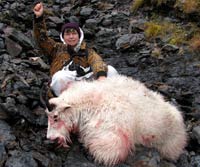 Bonnie Shirk of Lebanon, Pennsylvania lifts her arms in a triumphant "Praise The Lord!" over her Billy Goat taken at our Kodiak location. The going was hard on her and the conditions were very windy, but Bonnie was determined and she made an excellent shot to anchor her Billy. Bonnie also got a nice Sitka Blacktail deer. She and her husband, Ron, were both on this hunt and went home with five nice trophies.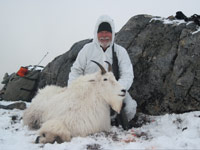 Roberto Biciocchi spent the night on the hill and was guided to his Billy by Chris Osbekoff. Roberto came all of the way from Italy to Kodiak Island, to hunt a Mt. Goat and a Sitka Blacktail Deer and Chris made sure he got both of them. Roberto conducts his own hunts in Italy and in Africa, I am sure you can email your questions to him.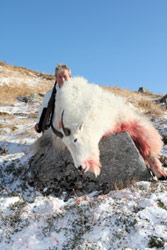 Steve Hoblick, on a beautiful day on Kodiak Island with his Mt. Goat. Steve also took a nice Sitka Blacktail deer and a brown bear.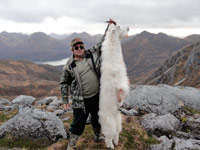 Tim Gott of Gott's Disposal, in Maine decided the time was right for him to come to Kodiak Island to get a Mt. Goat. Tim went up into the hills with his guide, Brett Bohn, to spike out in a tent until he could get this goat.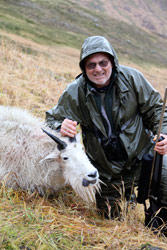 Pat Kennedy has been moose hunting with us many times, but when he found out he could register for a goat permit, he decided it was time to come on a goat hunt. Pat persevered in his hunt until he got this nice Billy. Pat was guided by Gus and Chris Osbekoff. If you have any question for Pat, you can send him an email.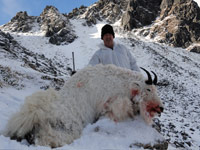 Gerald Purcell met us at the Safari Club International Convention and started talking with us about a Mt. Goat hunt. We had to time this carefully for Gerald to be able to get away from his Pike Lake Outfitters business in between his goose and Whitetail Deer hunts. Bret Bohn guided Gerry to his bodacious Billy Goat. If you would like to talk with him about his trip with us or about making a trip with him, you may send him an email.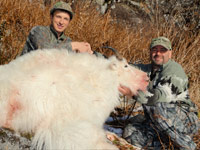 Mike Moore (on right) and Bret Bohn pose with Mike's Billy Goat. Mike has hunted with us a couple times and plans on returning as his business in Pennsylvania allows. I am sure he would be happy to answer any questions you posed to him regarding any of our hunts that he has been on.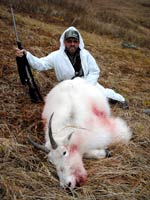 Ron Shirk with his Mountain Goat, which he took on the same hunt as his Kodiak Island Brown bear and Sitka Blacktail Deer.