Kodiak Island Sitka Blacktail Deer Hunts
Sitka Blacktail is a unique species of deer and an often sought after trophy needed for the North American Slam of Deer. Blacktail deer hunting on Kodiak Island is one of the best Alaskan hunts for your money. You can combine great hunting with bottom fishing, bear and goat viewing, duck hunting and on top of all that have some scrumptious seafood treats for meals. This is a relatively inexpensive way to see one of the most beautiful areas of Alaska.
Deer hunting in Alaska, by nature, fluctuates from season to season. Due to our southern location on Kodiak Island we have noticed a steady population of harvestable bucks when winterkills on northernmost parts of the island are substantial. Being on a land-based hunt is very advantageous because you sleep in wood heated cabins and always wake up to gear dried by a wood stove and you do not have to concern yourself with seasickness or sleepless nights during rough weather. If the weather is such that you don't feel the need to hunt, no one is going to kick you out the door.
With good genetics in our area and four bucks in the top 35 of B&C we expect to see continued results and more outstanding trophies from this area on the South end of Kodiak Island.
We offer a guided hunt for the clients that need a little help and companionship or people of alien citizenship. We also offer an unguided hunt for groups of four or more people that would prefer their own outdoor experience. As with all our hunts, guided or unguided, all accommodations, meals, and lodging is provided. We do prefer that unguided hunts come in groups of four and that for safety concerns hunt in pairs. On a guided hunt we do all the skinning, packing out, salting and meat hanging for you. As an unguided hunter these are things you must do for yourself. We are always available to give pointers on caping, should you need it.
We have three boats and a canoe for you to get around the bay and lagoon in. You will not be allowed to use a boat unless you have been checked out on its operation. We also provide drop off and pick up service. The majority of our hunts are guided or semi-guided and since most of my guides know the places where the hard to find bucks habituate the guided hunts normally do about 50% better than unguided hunts, but some guys just have the killer instinct and do fine without a guide. The terrain can be steep in some places and often times you'll swear you are chasing goat instead of deer, but the reward is well worth the climb. Please contact us to request a current price quote for our five-day deer hunt.
Season: 08-01 through 12-31 Dates: Hunt not available until after Nov.06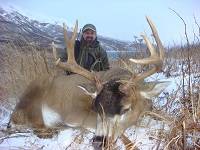 Luis Horatio Salinas Valdez of Saltillo, Mexico has hunted with us many times. His latest trip for Sitka Blacktail deer netted him this trophy class buck fairly close to the base camp. It's SCI score was 107 1/8. His guide was Lyle Becker.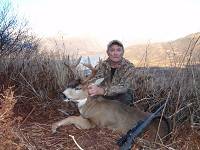 Shane Quinn took some time off from Alpinehunting.com, his own guide business in New Zealand to relax at our camp on Kodiak Island. Shane took this nice buck which scored 97 SCI. He and his guide, Clay Roberts also took a beautiful 9 1/2 billy goat which is shown with the other goats on our web page. He'll be happy to answer questions if you email him at info@alpinehunting.com.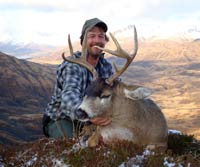 Biglerville, Pennsylvania is the home of Dave Slaybaugh who poses here with one of his two nice Kodiak Island Sitka Blacktail he took while being guided by Gus Lamoureux. This deer took the Safari Club International second place award in 2008 with a score of 97 1/8.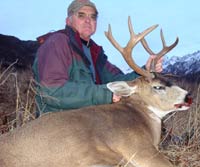 Charles Mervar of Longmont, Colorado bagged this nice Kodiak Island Sitka Blacktail buck shortly after he arrived at camp on a deer/goat combination hunt. He later took a nice Billy that unfortunately fell into a location that was unrecoverable.
Lance Parks
with his Sitka Blacktail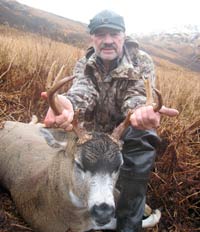 deer that he took while on his Kodiak Island Brown Bear hunt.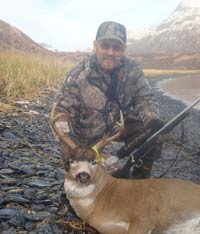 Ron Shirk
took this deer after he got his Mt. Goat and Kodiak Island Brown Bear.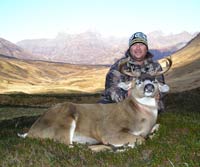 Bradford Lung
came all the way from Hawaii, a second time, just so he could try for a Sitka Blacktail deer bigger than his buddy, Jonathan Faford, got on their first trip.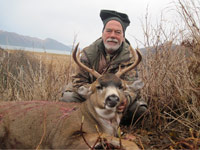 Roberto Biciocchi posed with his very nice Sitka Blacktail deer. Click this link to have a look at the
Mt. Goat
he harvested on the same trip or for the link to send him an email.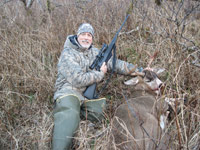 Jeremy Chase met us in Harrisburg, Pennsylvania and decided he wanted to come to Kodiak Island for a Sitka Blacktail Deer hunt. We all had a good time together as Jeremy and Chris Osbekoff worked together to get Jeremy this nice deer. Jeremy will answer your questions emailed to this
address
.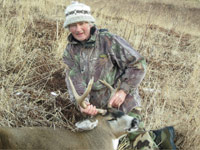 Garry Paterson had hunted with us quite a few years ago and contacted us again when he decided to come all the way to Kodiak Island from New Zealand for a Sitka Blacktail. Garry does a good deal of hunting at home and was in great shape to cover some territory with Chris Osbekoff, his guide, in search of this deer. They had a great time together and Chris even went to New Zealand and visited with Garry while he was there. Garry does not have email, but if you would like to ask him some questions about his hunt, let us know. We can give you his contact info.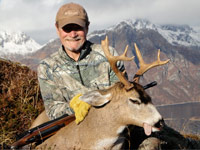 Steve Hoblick with his Sitka Blacktail Deer. Steve Hoblick got this nice deer on a Kodiak day with glorious weather. Steve came from California on a multi specie hunt and also harvested a
Brown Bear
and a
Mountain Goat
.