Alaska Peninsula Brown Bear Hunts
The Alaska Peninsula or root of the Aleutian Chain is also home to some of Alaska's largest bruins. Our Ugashik Lake Camps are centrally located on this peninsula, in the midst of the Alaska Peninsula Wildlife Refuge. The Alaska Peninsula Brown Bear are much like the bear found on Kodiak Island and in some case bigger and more plentiful than the Kodiak Island Bears. We have two guide use areas on Federal land in the Ugashik Lake area. In these two areas we can accommodate up to nine clients, whom we disperse into areas that have been very productive in the past, usually near major salmon streams and denning areas. Wall tents constructed with steel frames and/or Bomb Shelters are used with the famous Alaska Peninsula weather in mind. In some cases cabins are available for the man that likes all the comforts of home. Regardless of where you stay or what type of structure you put your head down in, rest assured your safety and comfort have been thought of along with your odds of taking a good bear. Our concession is roughly 593 square miles and the bear population in this area is roughly 3.8 bear per square mile.
With that many bear one would think this would be a cakewalk but that is not always the case. As late fall approaches bear can be very elusive and often do not move until early morning or late evening. During the spring season bear can be very late coming out of hibernation especially if the weather remains cold. Normally we do very well and have taken record book bear here with skulls nearly thirty inches and hides squaring eleven and a half feet. Our normal skull size for these two areas is between 25 to 27 inches. One spring season seven out of eight clients were finished within the first three days of the season! Our archery clients, during the fall season, have enjoyed 90 to 100 percent on shot opportunity.
Ugashik 1 client : 1 guide 10 hunting days
Season:
05-10 to 05-31 and 10-01 to 10-21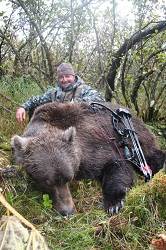 Gus Congemi hunted Ugashik Lake once before, scoring an 8 foot bear. On his second trip he and his guide, Duane Disterhoft, were in the right place at the right time to make a five yard shot on this bear. After he told me he had gotten a bear bigger than his last one, but didn't think it was a monster, the joke was on him when we measured the skull. The fact is it scored 29 6/16, which has placed it number one, all time, in the SCI archery record book. Gus has the Pursuit channel's show called "Live the Wild Life with Gus Congemi" and got both of his hunts and Tim Peloso's on film. http://www.youtube.com/watch?v=1jpP8G1QLTI&feature=em-share_video_user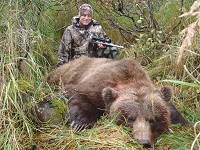 Mike Panaski of Ephrata P.A. Can be reached at panaski@pepperidgefarm.com to talk bear hunting. Mike shot this guy with several shots from his Thompson Contender outfitted with an SSK .376 Steyr cal. Barrel topped with a 2.5x-8x Leupold. Mike was guided by Chris Osbekoff.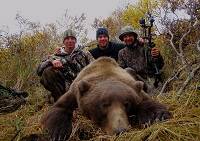 Pictured from left to right are Elam Stoltzfus, guide: Clay Roberts and hunter: David King. David and Elam drove their truck from PA to Anchorage as part of their trip for David to go on his hunting trip.They took their first airplane rides and scored this beautiful 9.5 foot, Pope and Young record book bear. I swear they never stopped smiling the entire time they were in Alaska.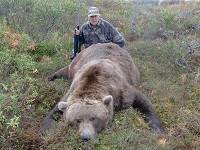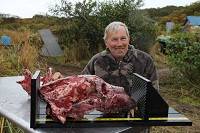 John Baker of Richboro, PA got skunked on his first trip to Kodiak but returned to Gus' Ugashik Lake Camp and scored this 10 footer with a book skull of 28 5/16. Great Job John! John was guided by Glenn Bohn and assisted by Chris Osbekoff. On the right is John with his skull. Record book skulls always bring smiles.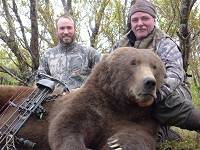 Tim Peloso of Newburg, NY was awed beyond his wildest expectations when he and his guide, Lyle Becker, made a 54 yard, double lung shot on this monster on the first day. His SCI green score was 27 15/16. The hide squared 10 feet. The photo to the right shows a bit of a tooth abnormality probably caused by fighting.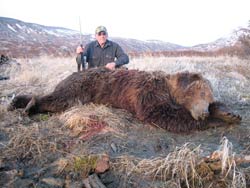 Harry Scharfenburg from Michigan had been on a Sitka Blacktail deer hunt on Kodiak Island and decided he wanted to see more of Alaska by hunting his Brown Bear on the Alaska Peninsula. Harry was one of six clients to put a bear on the ground in the first three days of our season. He was also among those first five that got a bear at or above nine feet. A machinist by trade, with Hunter Tool and Die, Harry made and sent us a first class skull measuring device, just like they use at Boone and Crockett. Question for Harry can be emailed to him at huntertoolandie@att.net.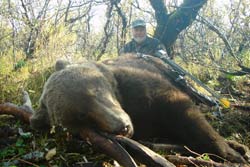 Duane Disterhoft, of Iowa, who came on his first hunt with us, to Kodiak, for brown bear, in 1988, is quite happy with his archery brown bear. Duane enjoyed hunting in Alaska so much he came back many times until he decided to get his guide's license in 1998. He has worked for us since then, occasionally bringing friends or family on a hunt. This time he decided to take some time off from the family business, and treat himself to an archery bear hunt. Duane and his guide, Bryce Johnson, came upon Duane's bear on the third day of the hunt. If you would like to ask Duane some questions about his time with us you can contact him via email at emmadood@iowatelecom.net.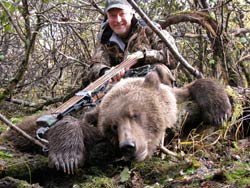 This archery bear brought a happy smile from Bernie Kamps of Michigan. Bernie met us at the Safari Club International convention and decided he wanted to take a break from his business, Kamps Pallets, to hunt a brown bear, from our Wolf Lake camp. Eric Beeman, who, like myself, grew up and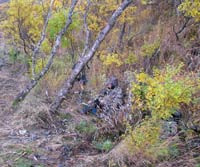 was trained by his father, an early Alaska guide, guided Bernie. Bernie may be emailed if you have questions for him. Here is Bernie's guide, Eric Beeman, as they sit in ambush for a bear on the creek.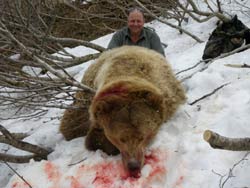 Mark Brackstone took time away from his bricks at http://www.brackstonebuilders.com , coming to us all the way from Great Britain, to bag this brown bear on the Alaska Peninsula. Mark was guided by Glenn Bohn, and took this sleepy bear out of our Wolf Lake camp on the second day of his hunt. Mark's smile says it all in this picture with his bear. He can be reached via email at mark@brackbuild.com.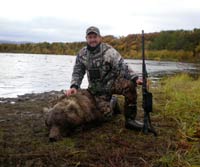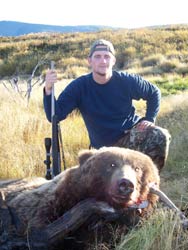 When Alan Thomas of Texas asked his son, Mitch from Louisiana, what he wanted for a college graduation gift, he said "A Brown Bear Hunt." So Alan called us. Mitch was guided by Jonathan Lotton and got his bear on the first day of the hunt. Alan got to hunt out of a cabin at the Ugashik Narrows and got his bear on the fifth day while being guided by Glenn Bohn. Alan can be contacted at alan.thomas@edwarjones.com.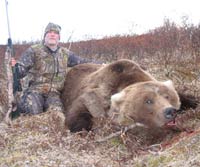 Dr. Byron Gatlin of Washington was guided to his fall, Alaska Peninsula Brown Bear, by Paul Lenmark. They put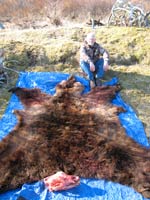 packs on their backs and headed off into the hills, and it only took them four days to get this beautiful bear. For questions about his hunting experience with us he can be emailed at gatorfan@gmail.com.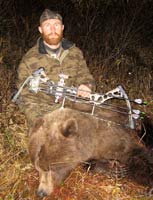 Matt Johnson came to Alaska from Texas, taking time off from http://www.summitpetroleumllc.com Paul Lenmark assisted Matt in taking this beautiful bear. Matt arrowed his bear at 30 yards on the eighth day of his Alaska Peninsula hunt. Matt may be reached at mjohnson@summitpetroleumllc.com.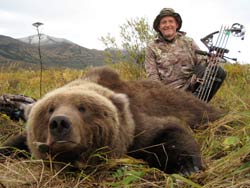 Ken Asbury, from Wheatridge, Colorado, decided he wanted to come to Alaska to try for an archery brown bear. Paul Lenmark guided Ken to this beautiful brown bear on the 6th day of his hunt on the Alaska Peninsula. Ken can be reached for comments at jasbury237@aol.com.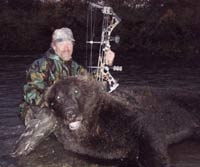 We met Roy and Angela Walk when they came down from their business, in Port Matilda, Pennsylvania to the Harrisburg, PA sport show we do every year.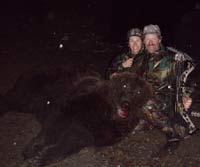 They had set the goal of an Alaska Peninsula brown bear - with a bow. Roy would hunt and Angela would act as videographer. Eric Beeman guided them onto this bear on the 5th day of the hunt. It was an excellent shot, and the bear died within thirty seconds. The down side was that it died in the river. Angela got some excellent footage of the hunt and the kill. A short excerpt is included on this site. If you missed it above, you can link to it here. You can ask their opinion of the hunt or other questions via email at awalk@walksautoservice.com.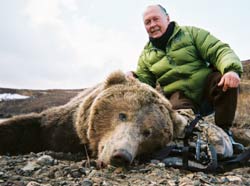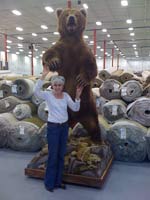 Charlie Rush, who owns and operates
Carpet Discount Warehouse
, in Charlotte, NC has hunted Kodiak Island and the Alaska Peninsula, taking two brown bears with us. The last one was this monster (Also pictured with his grandson on his business website.) taken at our Wolf Lake camp on the Alaska Peninsula. The skull measured 28 10/16 and won the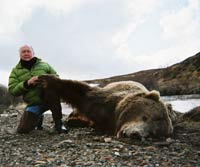 2008 award for the largest SCI skull taken that year. Charlie plans to return to Kodiak in 2012 to try for an even larger bear. Charlie sent us this picture of his wife, Roz, posed in front of the bear. If you would like to ask Charlie some questions about his hunt, you may email him at
rozzierush@gmail.com
.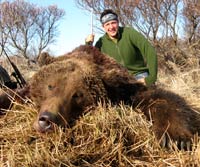 Patrick Sikorski met us at the annual Safari Convention and said he wanted a brown bear and didn't care how hard he had to work for it. We put him in a spike camp with Cody Cowles and he got to go home with this beautiful bear and two wolves.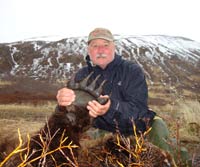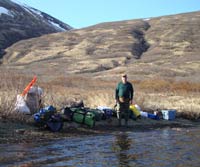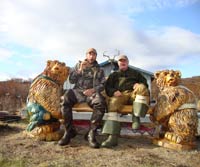 Bob Cowell
met us at the Dallas Safari Club and said that he wanted to come on a moose and a brown bear hunt on the Alaska Peninsula. Well he did both. Bob hunted during the spring season and was guided on his brown bear hunt, by Lyle Becker and he took home a nice bear. Look at the size of that paw. Here is Bob by the lakeside, with the camp broken down, awaiting pickup. Bob and Lyle, back at main camp, having a celebratory cigar. Check out our moose info to see Bob's moose.